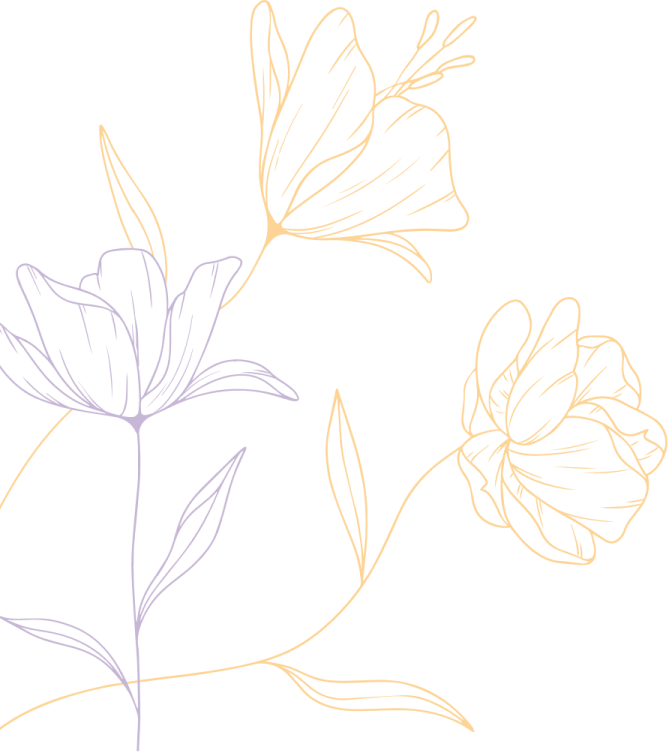 Egg Retrieval Side Effects
Since 1985, we have performed many thousands of egg retrievals and gained extensive experience in retrieving eggs from the ovaries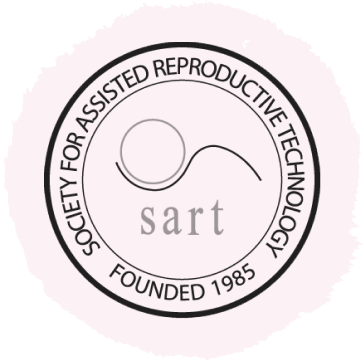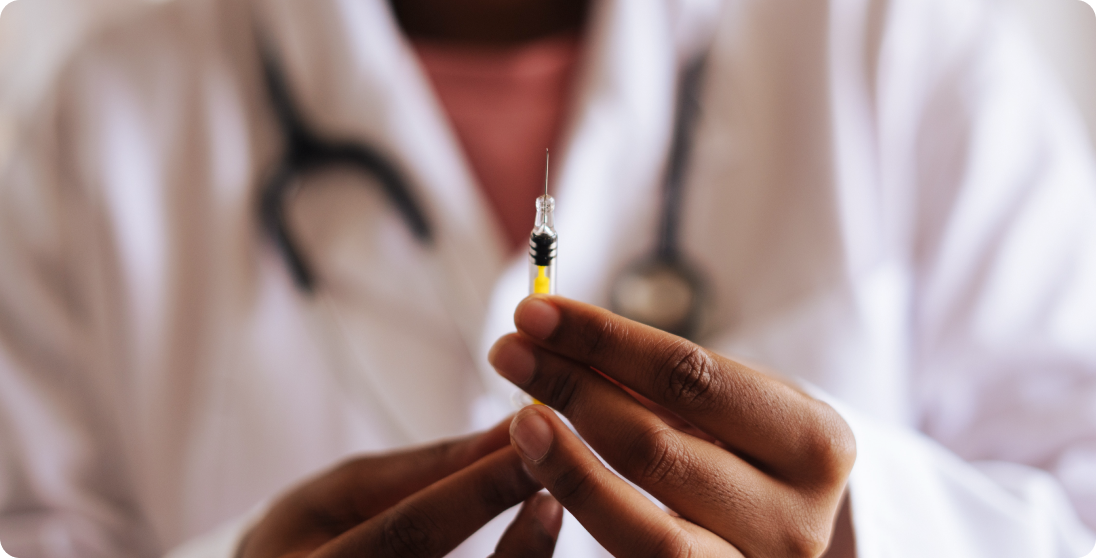 Are there any egg retrieval side effects?
The egg retrieval procedure at Bay IVF only takes a few minutes (usually 5 to 10) and is very safe. It typically has no complications or side effects.
We use comfortable conscious sedation for analgesia. As a result, most of our patients sleep through the brief procedure without the need for general anesthesia. This way, any potential risks and side effects of general anesthesia are avoided.
Since 1985, we have performed many thousands of egg retrievals and gained extensive experience in retrieving eggs from the ovaries.
Theoretical egg retrieval side effects may include:
Infection: Bacteria normally present in the vagina may be inadvertently transferred into the abdominal cavity by the needle. The estimated incidence of infection after egg retrieval is less than 1 in 1,000. Prophylactic antibiotics are used before the egg retrieval procedure to reduce the risk of pelvic or abdominal infection.
Bleeding: The needle passes through the vaginal wall and into the ovary to obtain the eggs. Both of these structures contain blood vessels. The incidence of significant bleeding problems has been estimated to be less than 1 in 1,000.
Trauma: Despite the use of ultrasound guidance, there is a very slight risk of damaging other intra-abdominal organs during egg retrieval.
Analgesia: The use of analgesia during egg retrieval can produce unintended complications such as an allergic reaction, low blood pressure, and nausea or vomiting.
Failure: It is possible that egg retrieval will fail to obtain any eggs, or the eggs retrieved may be abnormal or of poor quality, leading to the failure to produce a viable pregnancy.
In conclusion, egg retrieval side effects are infrequent. Oocyte retrieval is a very safe procedure, especially when the use of general anesthesia is avoided.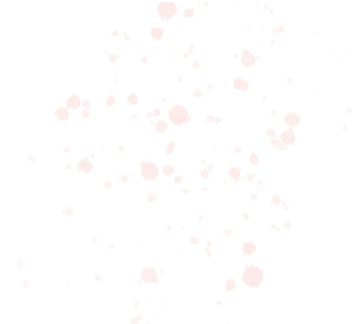 We look forward to meeting you at Bay IVF and, when your treatment is successful, celebrating your new pregnancy!
0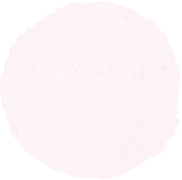 +
Years of Experience
0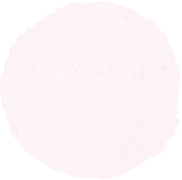 +
Babies Born
0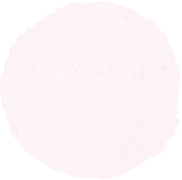 %
Compassionate Care Hear from Our Patients' Journey to Parenthood at Bay IVF!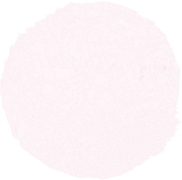 I would highly recommend Bay IVF for those wanting to build their family and needing IVF support! Dr. Polansky and the whole Bay IVF team were so supportive and welcoming while also honest and realistic. Our girl is our dream come true!
Jennifer C.-F.
This clinic has been amazing to work with. All the nurses and staff made sure I was always comfortable and were there to answer questions any time I needed. We are incredibly grateful to Dr. Polansky and the team for everything they did for us.
Harpreet K.
Words could never express the gratitude my husband and I will always have for Bay IVF! We did our research and decided to check out Bay IVF. We scheduled a consultation and felt an instant connection… love at first sight!
Chelsea L.
More In Yelp Reviews Bay IVF Early Pregnancy Heartbeat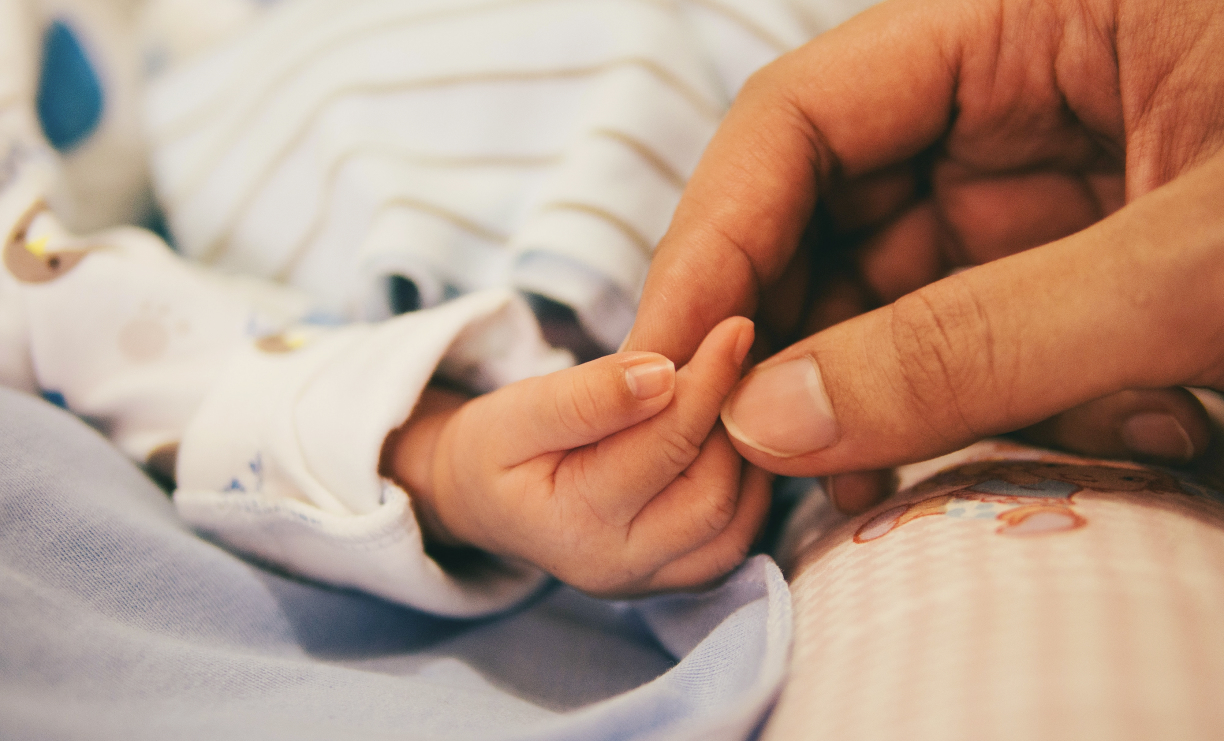 Meet Your Doctor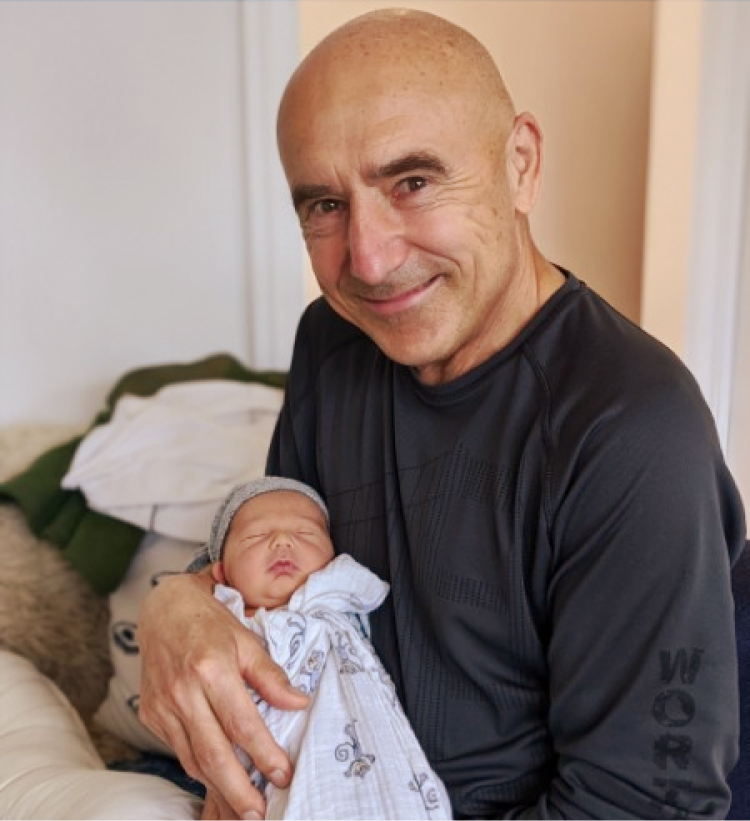 Dr. Polansky received his medical diploma from Charles University in Prague, the Czech Republic, in 1978.
After completing his OB/GYN residency at Jewish Hospital in Saint Louis, MO, he graduated from the Reproductive Endocrinology and Infertility (REI) fellowship at Stanford University in 1985.
In the same year, he co-founded the Stanford IVF Clinic.
Dr. Polansky obtained board certification in Obstetrics and Gynecology in 1986 and became REI subspecialty board certified in 1988.
In 1987, he left Stanford University and established Nova IVF.
In 2011, he founded Bay IVF, where he provides advanced fertility treatments with a holistic approach, utilizing state-of-the-art techniques.
Dr. Polansky personally performs ultrasound examinations, egg retrievals, embryo transfers, and ovarian and endometrial stimulations for his patients.
He is deeply committed to his patients and freely shares his cell phone number, ensuring accessibility and availability 24/7. Dr. Polansky's Communication With Patients
Real texts, anonymous patient names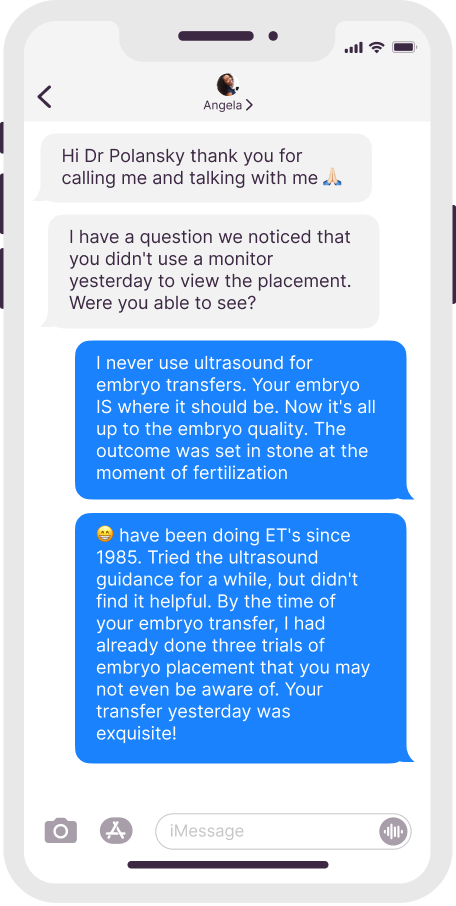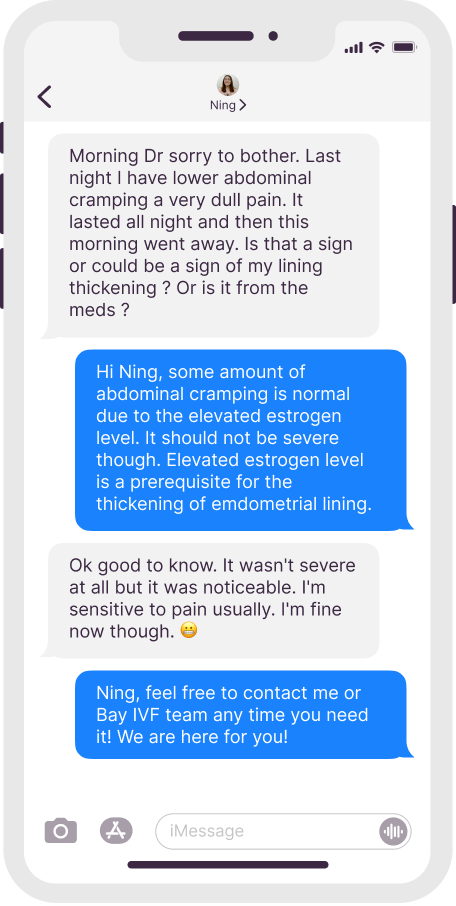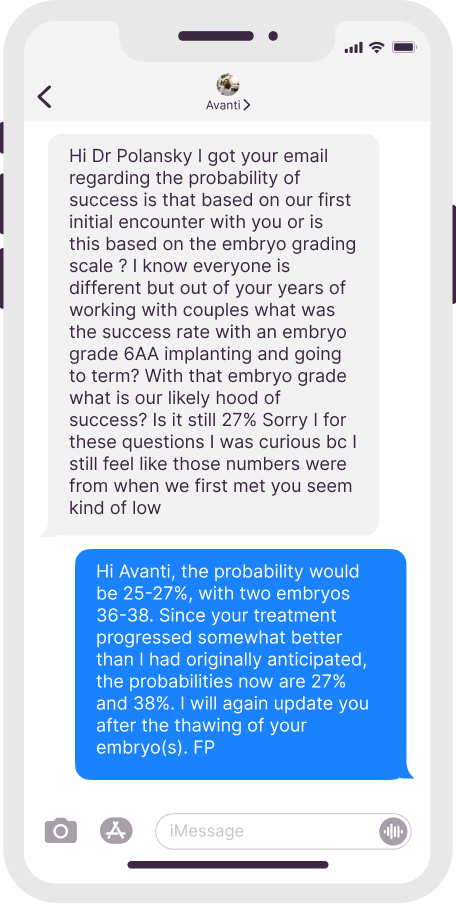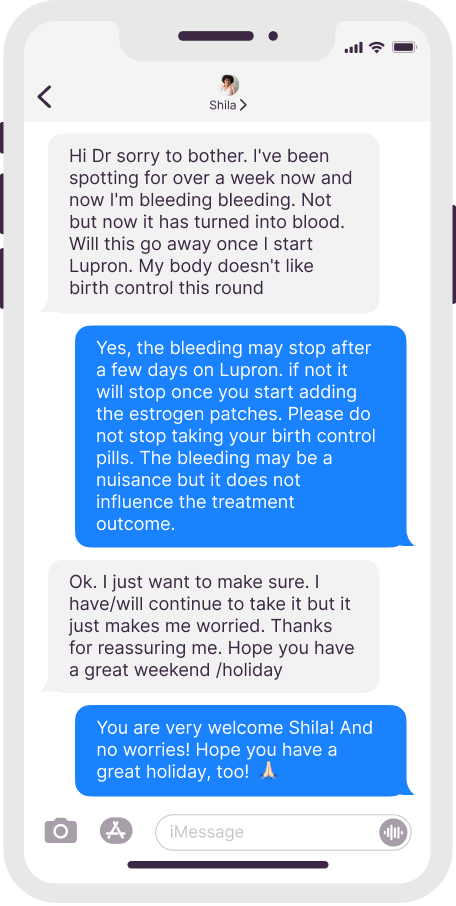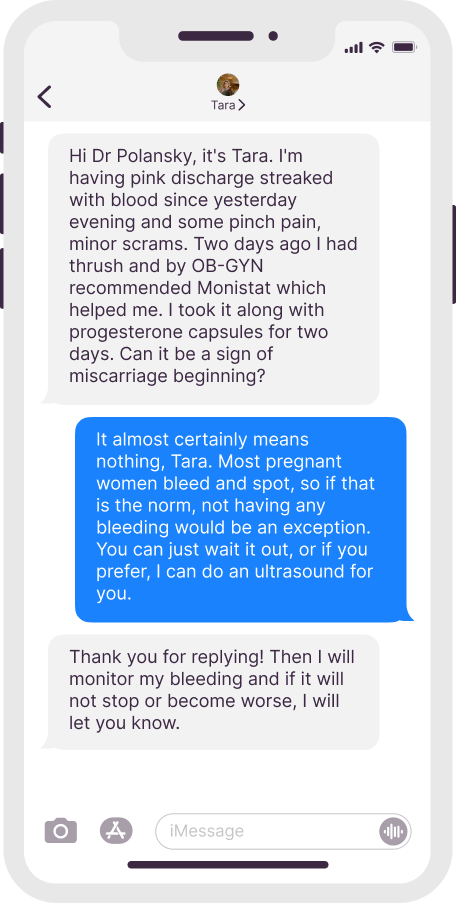 Initial Appointment Questions
When you call to schedule your consultation, one of our Front Office Coordinators will ask you a short series of questions regarding your reproductive history.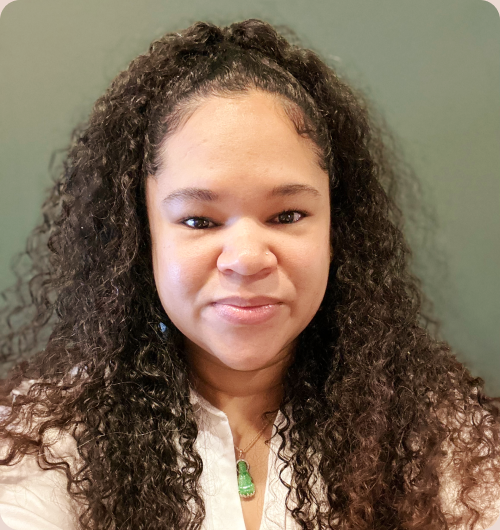 Your name
Your date of birth
Your height
Your weight
Do you know which treatment you plan to have?
How many times have you been pregnant?
For each of your pregnancies, what was the conception date? (month and year)
What was the outcome?
Were the pregnancies with your current partner?
If known, what is the cause of your infertility?
What is your average cycle length? (number of days between onsets of your periods)
Are you currently taking any medications? If yes, which ones?
Are you allergic to any medications? If yes, which ones?
Your partner's name (if applicable)
Your partner's date of birth (if applicable)
What is the length of your relationship with your current partner? (years and months)
When was the last time either of you used any contraception?
Is the male partner currently taking any medications? If yes, which ones?
Is the male partner allergic to any medications? If yes, which ones?
What is the total number of pregnancies the male partner has ever caused?
Has the male partner ever caused a pregnancy without the ICSI (Intracytoplasmic Sperm Injection) procedure?
Has the male partner had a vasectomy or vasectomy reversal?
If available, for each Semen Analysis, please give the date (day, month, and year), volume, concentration (sperm count), percentage of motile sperm, and percentage of morphologically normal sperm.
Have you ever had any treatment for, or problems with, your lungs, heart, blood and blood vessels, breasts, digestive system, genito-urinary system, thyroid disease, diabetes, or neurological disorder? (female partner only)
For each X-ray of your uterus and Fallopian tubes (hysterosalpingogram), laparoscopy, hysteroscopy, or laparotomy, please give the procedure date (day, month, and year) and the findings.
If available, for each FSH, LH, estradiol (estrogen, E2), and AMH (Anti-Mullerian Hormone) test you have had, please give the date of the test (day, month, and year) and the result.
Have you done any intrauterine inseminations (IUI)? If yes, how many?
Have you had ovarian stimulation with injectable medications?
For each IVF treatment you have had, please provide the following information if available: Date (month and year), the dose of medications to stimulate your ovaries, your highest estrogen level, number of ovarian follicles that developed, number of eggs retrieved, whether ICSI was done, number of embryos available, number of embryos transferred, number of embryos frozen, and the treatment outcome.
Have you ever smoked cigarettes? If yes, how many cigarettes a day during the last three months? (Please remember that you must not smoke during your treatment.)
She will be providing you with exceptional support throughout your treatment journey at Bay IVF.
Listen to a typical conversation between Erica and a new patient.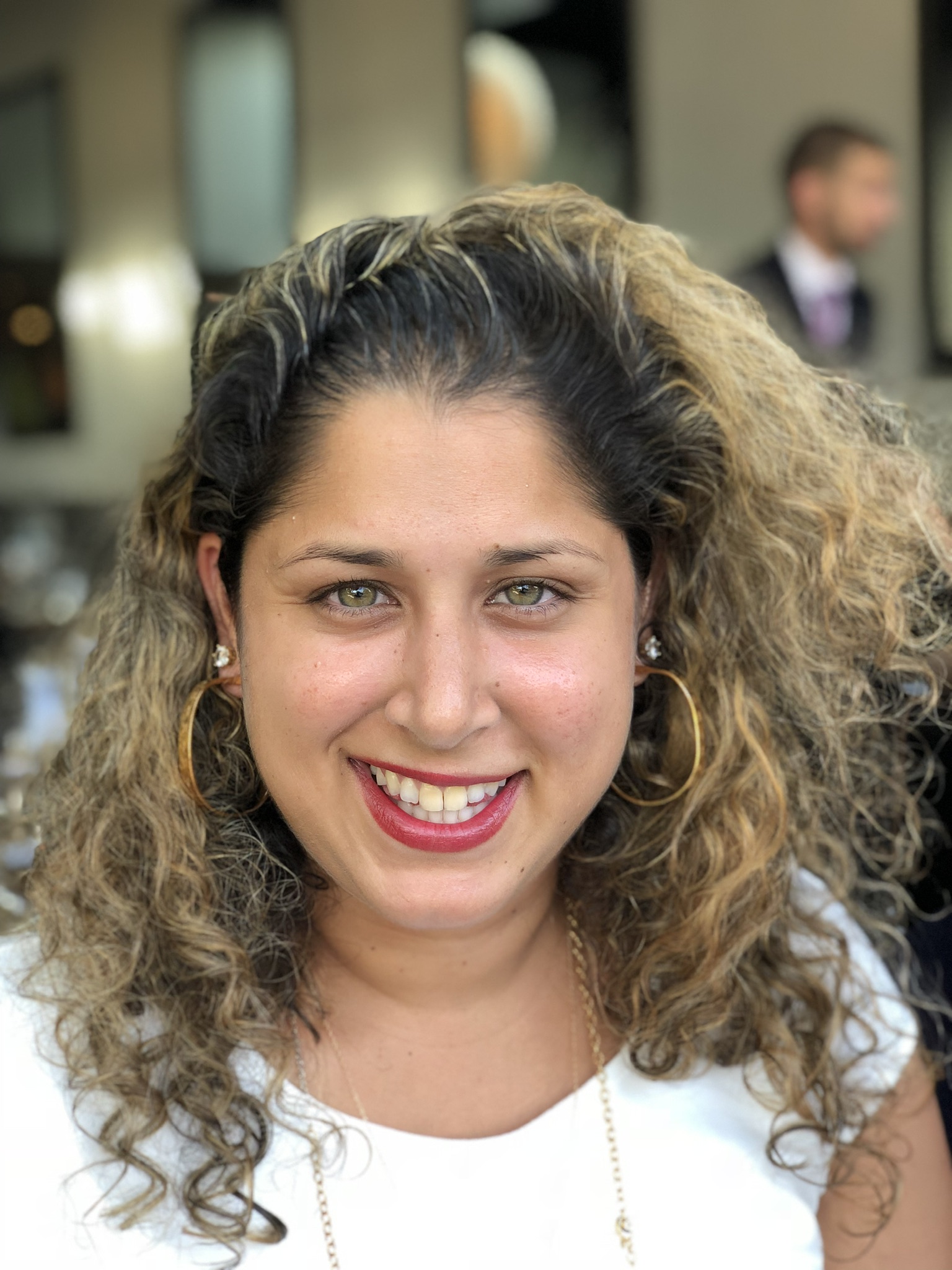 Your invaluable resource for effortlessly managing your appointments at Bay IVF.
Listen to a typical conversation between Nisha and a new patient.
Patients' Thank You Cards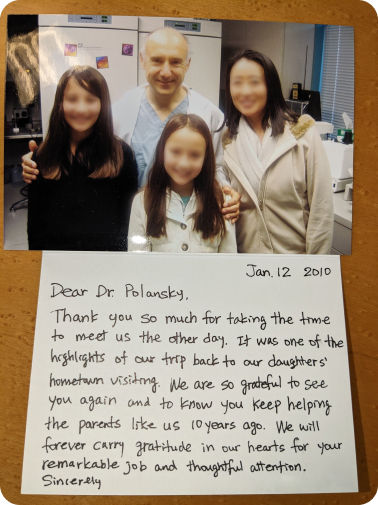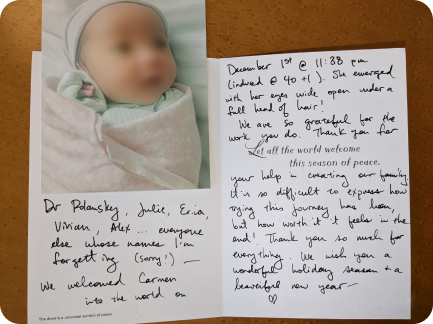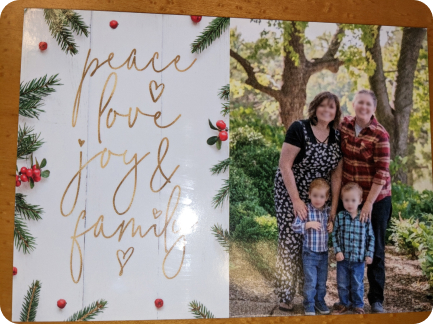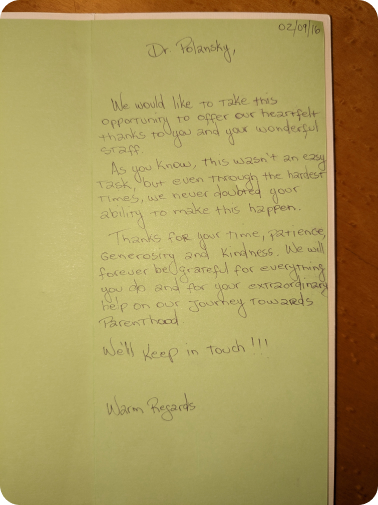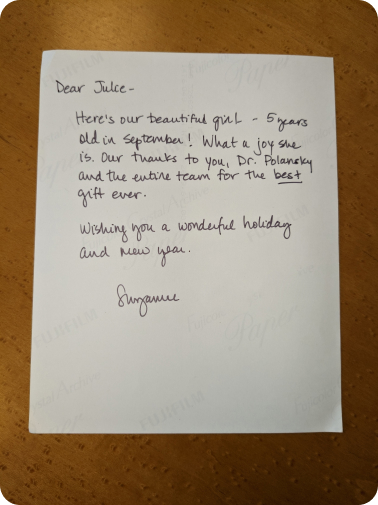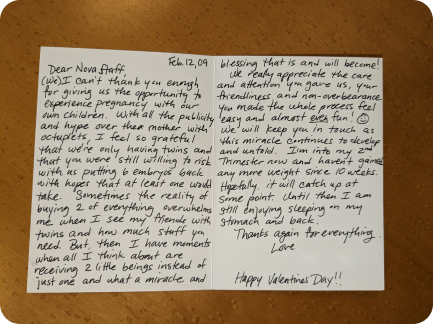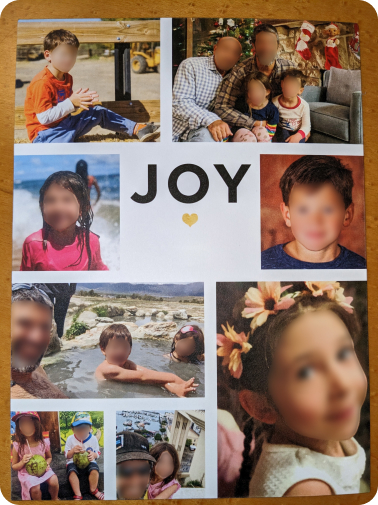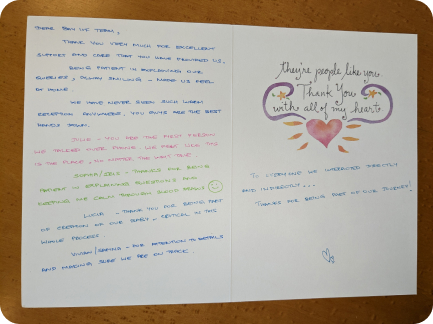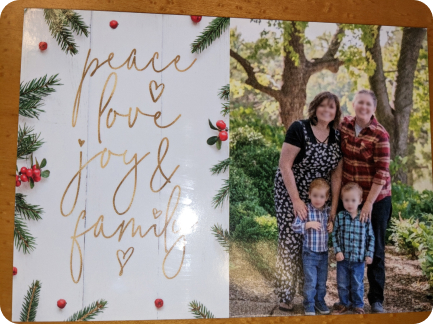 Your Initial Visit at Bay IVF
Attending a new patient appointment at a fertility clinic can be stressful. Our primary objective is to ensure that your initial visit is friendly and relaxing. We encourage you to ask questions at every step of the process.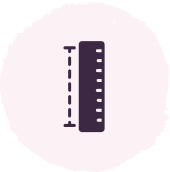 1 — When You Arrive
You will be welcomed by one of the clinic receptionists. One of our nurses will measure your height and weight and take your blood pressure
2 — Meet Your Doctor
Dr. Polansky will ask you a series of clarifying questions and then provide you with a summary of the factors contributing to your infertility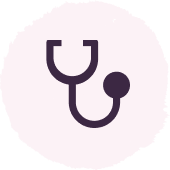 4 — Exam Room
One of the nurses will escort you to an examination room. Your examination will begin with listening to your lungs and heart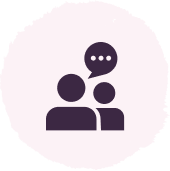 3 — Ask Your Questions
You will then have a discussion with him about the most suitable reproductive treatment(s) for you. During this time, you will have the opportunity to ask any questions you may have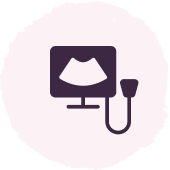 5 — Ultrasound of the Ovaries
The next step is a pelvic ultrasound to examine the uterus and ovaries. This ultrasound will help determine the number of antral follicles present within the ovaries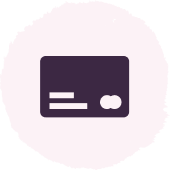 6 — Financial Part
Following that, you will have a discussion with one of the financial advisors regarding the financial aspects of your treatment, including potential treatment financing options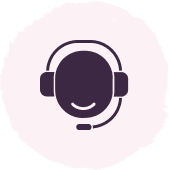 8 — Support 24/7
If you have any questions after leaving the clinic, please feel free to reach out to us via phone call, text, or email. Open and discreet communication is an integral part of the care we provide at Bay IVF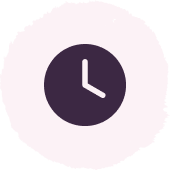 7 — What About Time?
Your entire visit is expected to last approximately one hour Schedule Your Initial Consultation With Dr. Polansky
Online (free) or In-Person

Call or Text Us: 650-322-0500
You can also complete the form below to request your initial consultation Still Have Questions?
We understand that this is a significant decision, and it is important to us that you feel truly comfortable